Check Your Eligibility [First Home Owners Grant QLD]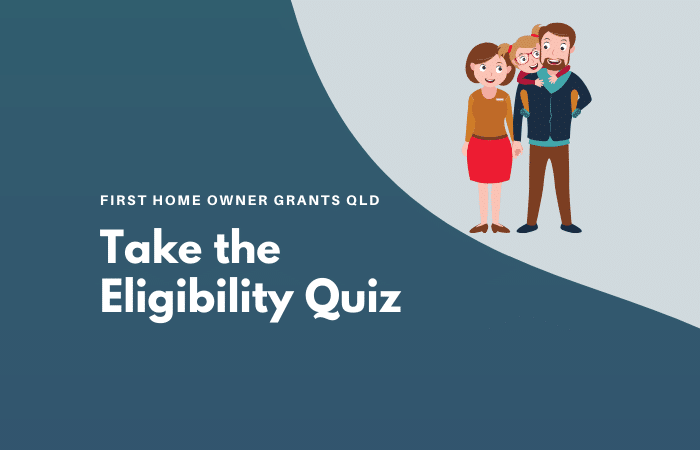 First Home Owners Grant QLD: There are now three different incentives you could be eligible for as a first time buyer or builder in QLD. This Eligibility Quiz will instantly reveal what you could get.
If you are ready to become a first home owner in Queensland this year, you probably already know that there are a few different ways the Government is giving you a helping hand.
As of 2020, we now have three different Government Grants, Rebates and Incentives on offer:
First Home Buyers Grant
Stamp Duty Rebate
First Home Loan Deposit Scheme
The hard bit is getting a quick answer on which ones you could be eligible for without reading through multiple government websites to work it out for yourself!
We have simplified all the information out there into this one easy quiz which you can access by clicking the pink button below.
There is no other tool available anywhere that covers all the current First Home Owners Grants QLD you can get in one easy place, so I hope you find it useful.
Can I get all three Government benefits?
Yes.
I recommend you do this Quiz to learn if you are eligible.
BONUS:  Fact Sheet with all 3 x First Home Owner Grants QLD on one page.
Want to see all the key criteria for all three Government incentives available for 2020 on one page?
Receive this for free when you completed the Quiz.
Get Instant Results
Please note, this Quiz covers Grants, Incentives and Rebates
for those buying in Queensland only.
If you want more information read the Complete Guides for a comprehensive overview of each.
My name is Victor Kalinowski and I'm a mortgage broker at Blackk Finance, with offices based in South Brisbane and Burleigh Heads.
If you're interested in getting in touch for some advice, book a call, instantly, at a suitable time or call 07 3122 3628.

The information used to create this quiz has been sourced directly from the relevant Government websites as linked in each individual post. The information contained within this page is general in nature. It serves as a guide only and does not take into account your personal financial needs. Before you act on this information you should seek independent legal and financial advice. Copyright Blackk Finance 2020.