The Banking Royal Commission Report on Mortgage Brokers, if legislated, will mean a very big change for every Australian with a home loan. We will see less competition in banking which means higher interest rates and fees for all.
There have been a number of headlines in the last few weeks about the changes the Royal Commissioner, Kenneth Hayne, is recommending around how a customer pays a mortgage broker to use their services for a home loan.
It is shaping up to be an election issue as most industry experts foresee that this change will be bad for customers.
In fact, almost daily politicians, non major banks and more are coming out with their perspective – majority are thankfully in support of mortgage brokers.
If you are interested in getting your head around what all the fuss is and how it might affect you, then please read on.
What is all the the controversy about?
It is about you, the customer, paying an additional fee to get your home loan approved – this affects how mortgage brokers are remunerated.
But before jumping straight into the proposed change as to how you might pay and use a mortgage broker in the future, let me recap on what you currently pay to use a mortgage broker right now.
Zero.
In the wide majority of cases.
That is $0.
Mortgage brokers get paid commissions from the bank you have your loan with and in almost all cases, this covers the cost of their service.
Brokers get paid two types of commissions from the lender:
An upfront commission after your home loan settles, and:
A trail commission calculated on the loan amount while that home loan is operating.
Commission Hayne wants to remove both of these commissions.
Instead he wants to replace it with an upfront fee that the user will pay to get a home loan.
This fee would need to be paid no matter who helps you with your home loan.
If you apply through a branch, you would pay this fee to the bank.
If you use a mortgage broker, you would pay this fee to the mortgage broker that helped you.
The Commissioner believes that this system will be better for clients – theoretically.
He made this recommendation because his concern is that because a mortgage broker is paid by commission based on the size of the home loan, this encourages them to get clients to borrow more than they can afford to repay.
In the Royal Commission, one major bank said that they will re direct the savings they get –  from not having to pay a mortgage broker commission – onto customers with lower interest rates. This has probably influenced the Commissioner.
In my experience with dealing with banks, I don't trust for one moment that they would voluntarily pass money onto their customers (hence the need for the Royal Commission ).
Why I disagree with the customer pays approach to mortgage brokering.
To be very clear, I don't think that it's fair for clients to have to pay another fee, to get a home loan.
Let me explain why.
Everyone with a home loan is already paying the bank – firstly interest repayments on their loan and also fees and charges, like application fees (in most cases).
This is how the bank earns revenue and profit from each client.
To then go and add another fee on top of this – for the privilege of taking out a home loan – feels inequitable to me.
I believe that the bank should cover this fee.
They are, after all, already making a huge amount of revenue from the client.
Nothing has been legislated yet.
It is important to remember that all of this is conjecture at the moment, based on recommendations in a report and I think there could be a long way between this theoretical recommendation and the reality of it being legislated.
Businesses throughout Australia will be impacted by the changes – the smaller banks, the non-bank lenders, mortgage brokers and associations –  who combined, employ ten's of thousands of Australians. Many jobs are under threat.
Fortunately a lot of these groups are working to educate politicians on the ramifications if the recommendations are implemented.
Just today, the Labour party retracted their original claim (saying they would take on all Commissioner Haynes recommendations without qualification 🤔) and is recommending that banks pay a flat commission to mortgage brokers rather than having the customer pay (the Coalition are already  supportive of brokers).
The impact on everyone with a home loan is less competition in banking.
I believe that if this propoesd change to how mortgage brokers are paid  is implemented, then there will be far reaching, negative consequences for customers.
It starts with this.
The first thing is that many mortgage brokers will leave the industry as the fee they are likely to receive is unlikely to be sufficient to cover the cost of running their business.
This will likely result in many of the banks and lenders who do not have large branch networks, either shrinking their businesses dramatically (laying off staff etc) or completely going out of business.
It is these smaller banks – many you have heard of and some you probably haven't – that create competition in the home lending market.
Think ING, AMP Bank, Bluestone, Liberty Finance, Teachers Mutual, MyState and Macquarie Bank.
There are 40 to 50 banks and lenders who help people borrow money when the big 4 banks either won't lend to them or they're not the best solution.
They have a considerable, and growing share of the mortgage market.
These lenders often do not have branches you can walk into, so they rely on mortgage brokers to help clients become aware of their options and to get their loan approved.
The result of mortgage brokers and these lenders closing is that…..
I think we could end up with a home lending market a bit like the 1970's.
Banking will be dominated by the big 4 banks with some smaller locally based banks like Suncorp.
It is likely that with only a few big banks dominating, the reduced competition will be seen in a couple of ways.
👉Getting access to home loans will be harder.
At the moment around 40% of home loan applications submitted to the banks are declined (it is very high and hasn't been this high for many many years).
This statistic includes mortgage brokers, whose job it is to navigate complexity to get your loan approved, more successfully than banks (I do not have the number but I imagine decline rates for bank branches is much higher than 40%)..
Without mortgage brokers, it will be even harder than it is today, for people to get a home loan approved.
👉 Expect higher home loan interest rates.
The most obvious outcome of  lower competition will mean even higher interest rates for clients.
Let me explain how this will happen.
For a start I need to explain something: net interest margin.
The net interest margin is the difference between what the bank borrows money at and then what they charge their clients.
The higher this margin, the higher the interest rate that clients pay and the bigger the profits that the bank makes.
The net interest margin right now (February 2019) is 2.15%. It is about the same as it was 10 years ago.
In other words, part of the reason as to why home loan interest rates have been kept lower is banks have kept their net interest margin low.
Over the last 10 years, mortgage brokers have really taken off as an industry (we now have 60% of the market*).
You join the dots.
For all the data lovers out there, see the chart below which shows the drop off for banks.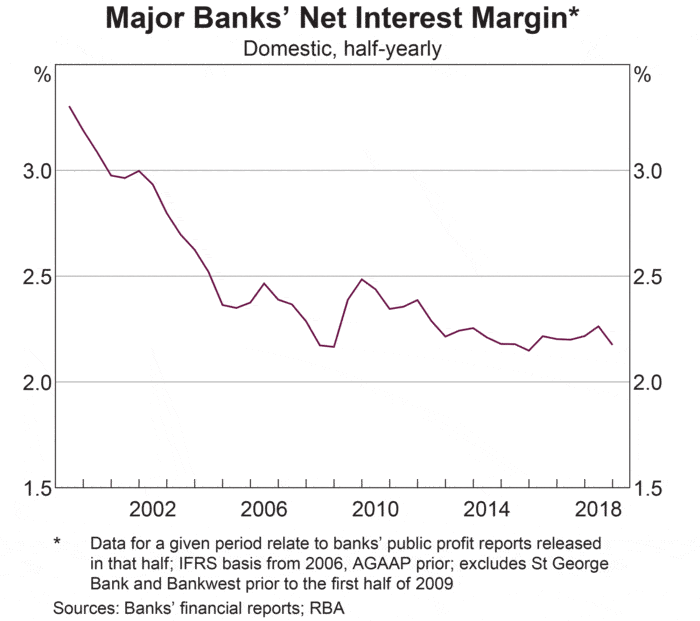 This margin impacts how much money banks make.
I am certain that one of the banks goals is to do whatever they can to increase the interest rates you pay in order to increase this margin.
Mortgage brokers help to keep home loan interest rates low for everyone.
Brokers are on the phone to banks working to get you a better rate… the conversation of "Westpac can give me this rate, so if you want this customer,  can you do better" … will not be happening.
Without this constant downward pressure that mortgage brokers create, banks can't help themselves.
Banks will increase home loan interest rates.
👉 Costly and harder to refinance your home loan to get a better deal.
If you want to refinance your home loan to get a better deal, you would now need to pay the fee again to the bank or a mortgage broker to get this done.
Several years ago, banks got rid of many of these fees so it was easier for people to switch lenders for a better deal.
So at the moment it almost costs you nothing to refinance as long as you have enough equity in your home.
Even despite how easy it is, many people still do not refinance.
Introducing a fee (likely several thousand dollars) is a barrier to refinance which will mean that people with a home loan will be even less likely to do so.
And because 88% of Australians** have a variable (component) to their interest rate, banks will almost be incentivised to increase home loan interest rates.
👉 Expect less flexibility with your home loan.
The second area that competition helps is in the loan options / features available to consumers.
These have all come about because of competition.
Some of these are:
Offset accounts – helps to reduce your home loan interest repayments
Family guarantee – first home buyers can buy with a lower deposit
Free redraw with your home loan – means you can access your money when you need it
No lenders mortgage insurance –  If you are in certain medical professions like being a doctor or surgeon, you can have a smaller deposit without having to pay lenders mortgage insurance
Low deposit loans  – only require only a 5% deposit.
With less competition, the drive for product innovations that improve home loan flexibility will reduce to a trickle, meaning it will be harder for some to get a home loan and cost you more.
👉 It will be more time consuming to get a home loan approved.
If the recommendation to move to a customer pays approach is legislated, then here is what you can expect when you go to refinance / take out a home loan.
If you are not prepared to pay a higher fee to a mortgage broker, your home loan journey will look something like this…
Consider this scenario – you have just had an offer accepted on a home you want to buy.
You go to your local bank to find out about a home loan.
Or call their call centre.
If you are eager, you may go to one… or even two other banks to see what deals they have.
You apply for one of these home loans with your bank.
The bank declines you ("computer says no") as remember 40% of all home loan applications are declined.
Now you need to call around and visit multiple banks – prepare and submit loan applications to several banks and cross your fingers (I won't get into how destructive a 'decline' is on your credit file).
👉 Will you even get the home loan that is the best fit for you?
Knowing which banks are good for different people and financial situations is called credit policy.
In the last year as a result of the Royal Commission – credit policy has become very complex.
It is (one reason) why mortgage brokers exist.
They know which of the 40 banks are lenders will want your business, so you don't have to apply to several to get a home loan approved.
Because banks are a one trick pony.
Banks will slot you into one loan, chosen from a small pool of 2 or 3 loans they stock (compare this to the hundreds that a mortgage broker reviews for you).
Without mortgage brokers, people will only review a small handful of different home loans so there is less chance of  getting the right home loan.
Of course it will also depend also on how savvy you are with understanding and negotiating with banks.
Many people will be able to choose a home loan based on the lowest rate – but choosing a home loan is about more than the lowest promotional rate of the day.
Clearly the less financially literate, less confident and those without hours of time on their hands to go through all of the offer's and condition's will be most affected.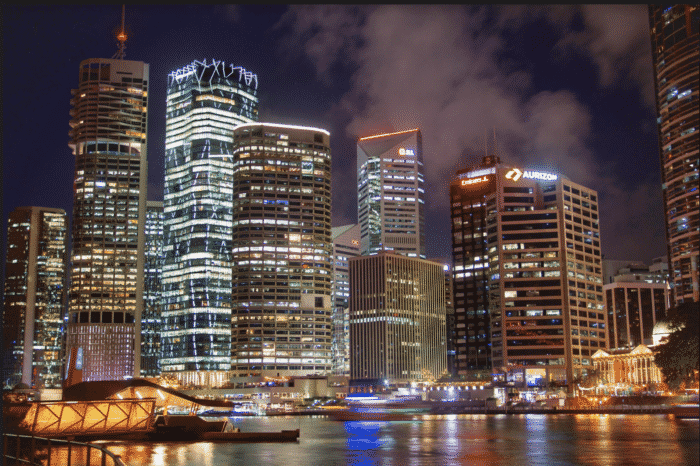 👉 Home owners will no longer get free advice on how to set up, use, and pay off their home loans quickly.
Beyond this basic need to get the right home loan approved  – a good mortgage broker will also fill your head with top advice (and service).
It is this expert advice that gets you ahead financially.
A bank branch just does not give you the depth and breadth of advice you get from mortgage brokers.
Banks are closing bank branches.
Bank managers have a lot of pressure on them to sell you a home loan and quickly move to the next customer so impartial advice isn't their strong point (think high bank profits).
If you have used both, then you probably already know this.
All these things a mortgage broker does for a client…
It is why banks are losing customers to mortgage brokers.
Banks are under pressure.
Fact:  Right now 59% of home loans are done through a mortgage broker*.
Just over the last 3 months, the number of people using a mortgage broker has increased by 9.6% (huge)*.
Yes, bank CEO's are concerned.
Many bank CEO's feel conflicted as they get a lot of customers from mortgage brokers, but on the other hand the profit margin a bank makes on a home loan through a mortgage broker is lower.
So a bank will do what a bank must do.
Kill the competition.
It is purely about profit.
Business is business.
Back to the Commissioner and his report.
The Commissioner is out of touch.
Commissioner Hayne has made a recommendation that is the opposite of what people are doing in the real world.
All this aside, no matter what is legislated – the power rests with the customer.
The person who..
Out-services
Out-listens
Out-guides
Out-delivers
Out-values
Out-product knowledge's the competition…
Will win in the end.
This is how business works in 2019 👊***.

The opinions in this blog are my own.
Book a free 15min phone consultation with me.
For more on how to buy a how in Brisbane, try here and here.
*MFAA / CoreLogic Quarterly Survey of leading brokers and aggregators,  July quarter 2018.
** ABS Housing Finance Data, July 2018.
***Tom Panos