Helping Out A Rap Star Who Was $53 million In Debt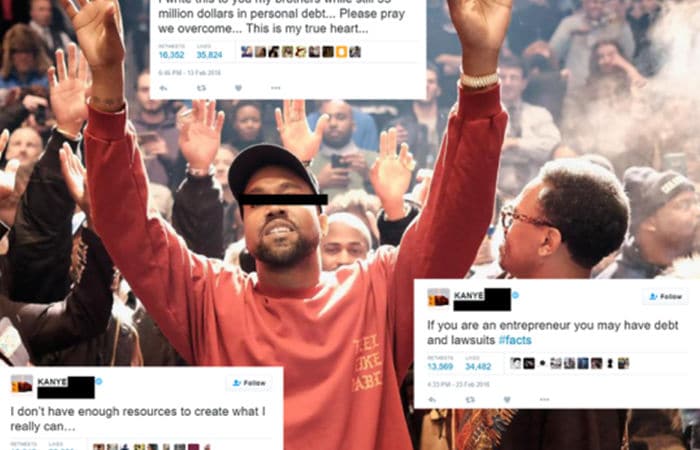 Refinancing Kanye's $53 Million Debt – Refinancing, debt and home loans can be tricky business, regardless of whether you're the 'greatest artist of all time' or better known for your bad puns and love of burritos.
Recent changes in interest rates have many homeowners wondering if now is a good time to consider refinancing. Here we share how we helped two of our clients do just that.
Kanye East and his Wife Kim Carbdashian (LAST NAMES CHANGED TO PROTECT ANONYMITY) came to us with a pickle. They were $53 million in debt and while they had great "personal wealth" Mr. East needed refinancing to support his lifestyle, repayments and career.
At Blackk Finance we specialise in helping millennials and Gen Y's get loans to buy their homes and investment properties as well refinancing loans to get their finances in check. So we were more than happy to help out.
Now assets weren't an issue for Mr. East but after examining his outgoing expenses it was clear how he came to be in his current situation.
Snapshot of Monthly Expenses:
Furs ($190,000)
Gold Chains ($280,000)
Champagne ($120,000)
Hair and make up ($80,000)
Sunglasses ($30,000)
Mark Zuckerberg is NOT the Answer
It was tricky at first to persuade Kanye to consider refinancing. He kept interrupting us and saying Mark Zuckerberg would give him a $1 billion loan and all he had to do was ask.
"Now I'm real happy for you and I'mma let you finish but Mark Zuckerberg is the best loan provider in town," Kanye said.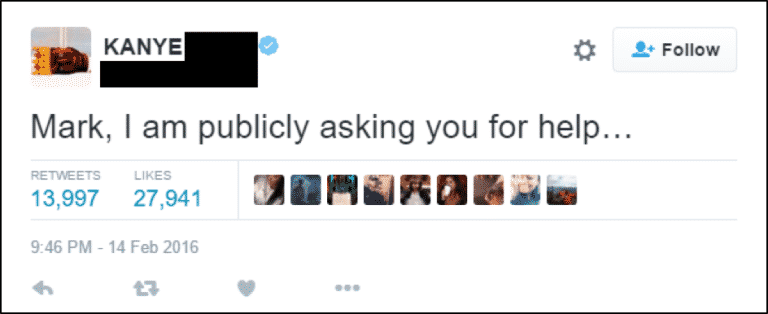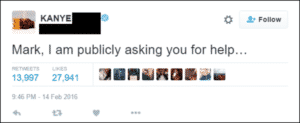 After convincing him Mark Zuckerberg runs your Facebook app, not your banking, Kanye finally let us work out a new budget for him.
The problem with Kanye's current budget was even though he was earning big bucks, he had even bigger expenses and this was getting him into some serious trouble.
What the … is Refinancing?
Now while refinancing sounds like a word your smart but unsurprisingly single uncle Brian might use, it makes a lot of sense in this context.
Refinancing simply means you pay out your current debt/loans with a newer and shiny loan with a better interest rate and features that matches where you are at. Basically, it should save you money. Kanye, for example, was repaying multiple credit cards and mortgages with high interest rates, when he could have consolidated his debts under one loan (refinance) with one low interest rate to repay.
 Credit Card Debt: a Massive Limit with a Lot Owing
The multiple credit cards meant high-interest repayments each month and a lot of them.
In this case, the Blackk team were able to refinance their debts under one loan. We then advised Kanye and Kim to create a new budget, no furs, no Lamborghinis and one small credit card that has to be repaid each month.
We also made some suggestions for a way to improve their current cash flow; this meant a few key things had to change:
Sorry Kanye, We're Going to Have to Downgrade Your Wheels.
While the Kanye had his eyes set on the ridiculously lavish Bentley Mulsanne Grand Limousine by Mulliner, complete with champagne and iPad docks. We had to persuade him to consider something a little more practical.
If they want to take this new budget seriously the Carbdashian-East family are going to have to swap their fleet of luxury cars for something more sensible like a Corolla.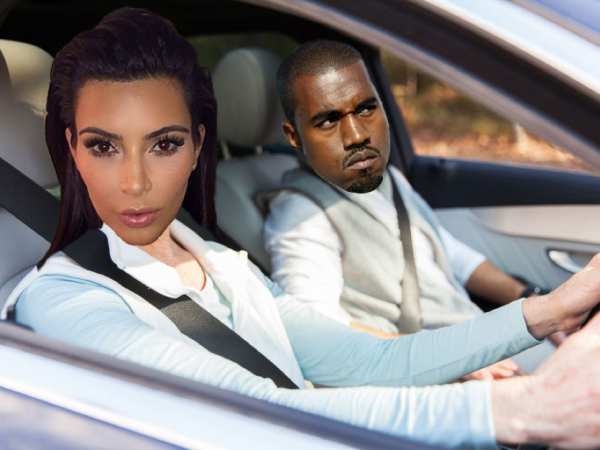 This will allow them to improve their cash flow through trading in and selling off some of their more liquid assets. This gives them a cash buffer that can sit in their offset account saving on interest repayments.
Renting out the family mansion
Another easy step to improve cash flow is to rent out existing properties you're not using fully. The Carbdashian-East family have several mansions they're not using in addition to renovating their new home.
The solution was to rent out these existing properties and reap the rewards. While the Carbdashian-East's will have to wave bye-bye to their holiday home it's a small price to pay for getting themselves out of debt.
The Result of Refinancing?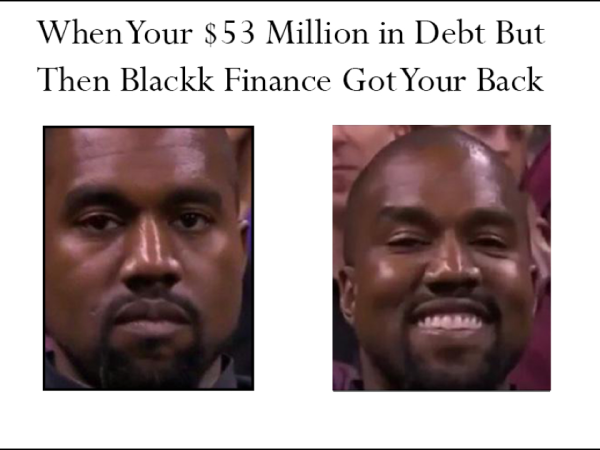 Blackk Finance is pleased to announce that Mr. East and his wife have now refinanced their loan and have warmed to their new budget. They are well on the track to becoming debt free and remaining that way.
When asked whether they would stick to the plan set out by Blackk Finance, Kanye said he couldn't imagine life without them.
"Bro, let me tell you something, once you go Blackk you never go back," said Kanye.
Now that's not exactly how we'd put it, but we're not the "greatest living rock star on the planet."
It's important to remember that every situation is different and what works for one person might not work for others. It's best to always seek professional advice for your individual situation, don't just try and apply something you read on the internet, this isn't WebMD for finance.
So if you'd like to learn a little more about refinancing for your individual situation pop on down to Blackk, call us anytime on 07 3122 3628 or drop us a line at [email protected].