How to Buy a House Step by Step Guide.
Learn where to start and what to do next.
In this guide, updated for 2022, I breakdown in detail the 21 steps on how to buy a house in Queensland.
Learn exactly what you need to do to buy your first home in the Sunshine State!
You won't need a massive deposit to secure your dream home, most people can get started with just some savings.
In this Step by Step Guide I walk you through exactly how to get started and what to do next.
Don't have time to read the full 21 steps now?
No problem, download the key steps in this summary guide.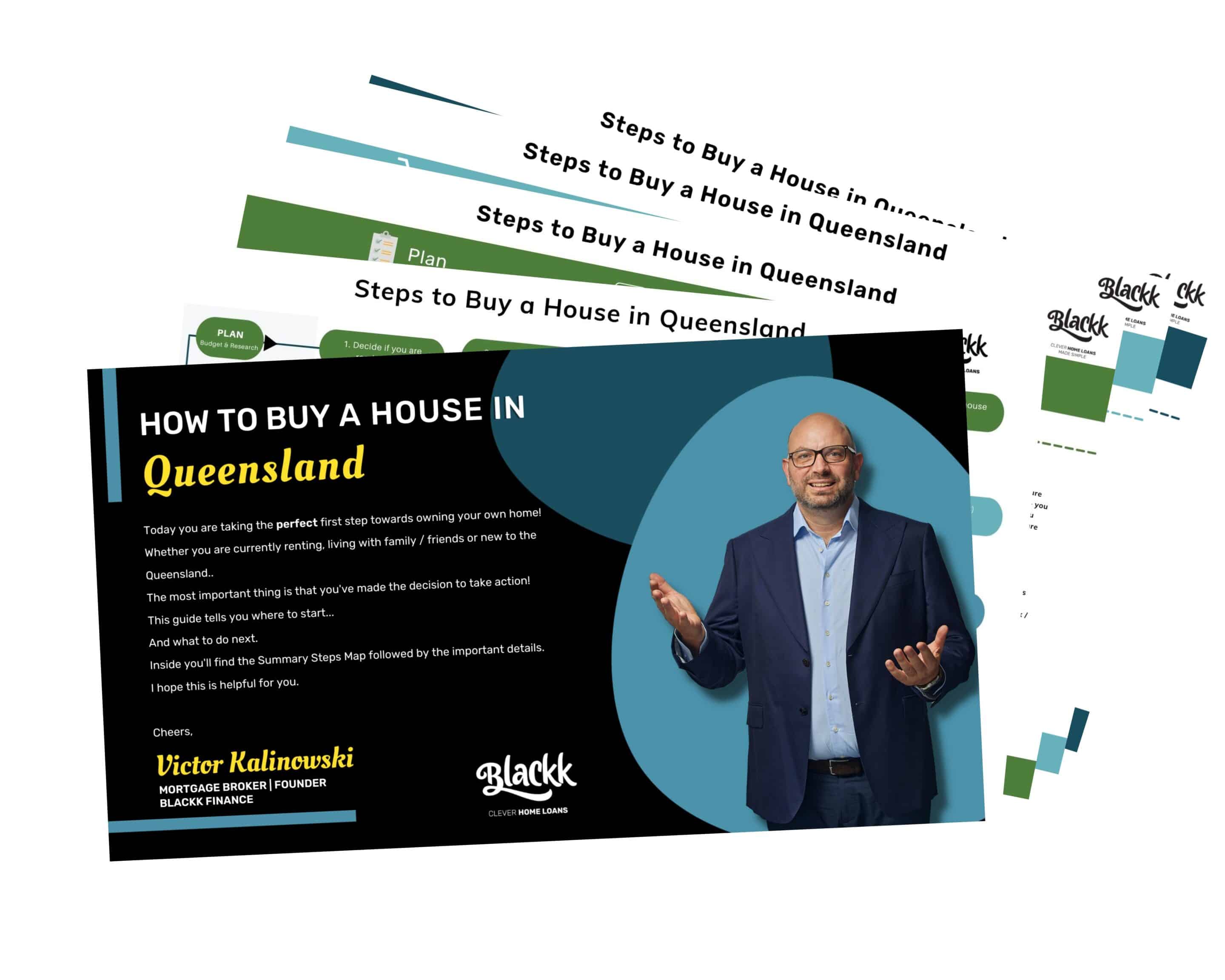 Step 1: Decide if you are ready to buy
The first thing to know is buying a home can take some time, usually between 3 to 12 months.
Why?
Let's face it, there is a lot involved….
You need to save a deposit, wait for the right property to come up, get your home loan approved and have the property settled so you can move on in.
The first question to answer is… are you ready to buy your first home?
Buying V renting V staying at home
Which is better?
It's a personal choice and depends where you are at in life.
Owning your own home brings with it a sense feeling grounded, adult and in control of your life.
You also get the satisfaction of growing your wealth from the capital gain of property price rises.
On the other hand, renting is much simpler (once you've signed the lease).
It's almost easier to just keep on the renting bandwagon signing lease after lease as finding extra money to put aside as a home deposit usually requires lifestyle trade offs.
But also consider the time, effort, costs and emotional stress of regularly moving homes.
If you are sitting on the fence, unsure whether to leap in and buy a home, the best place to start is with simply understand the possibilities – can you even get a home loan?
Step 2: Know your budget (deposit, borrowing capacity & buying costs).
At this point book, just book a call with me so you know exactly where you stand.
Don't bother too much with online calculators as they aren't accurate.
I'll help you to understand your options and what might be possible.
You will need answers to these questions so you know where you stand:
Can you get a home loan?
How much deposit do you need saved?
How much is your borrowing capacity?
What are the extra costs of buying a home?
Can you get any government grants or rebates?
How much deposit you will need saved.
The fact is today, most people can buy a home with a 5% to 9% deposit saved.
If the house you are looking to buy is $500,000, a 5% deposit is $25,000.
Of course, a bigger deposit is better, and actually a 20% deposit saved is ideal as you avoid the extra expenses of Lenders Mortgage Insurance (more on that later).
How to buy a house with no deposit saved.
A quick story.
I speak regularly with people who have saved long and hard for a small deposit of around $5,000 or so. It is easy to feel disheartened and like it is impossible to reach the milestone needed to buy you home.
I talk to them about options that could, leap them ahead. To my surprise, they will ring me back within a few weeks or months, having pulled together the ideal deposit or at least the plan to do so.
Options to buy with no deposit saved:
Get a money gift from family;
Get a family guarantor loan – some banks allow you to borrow 100% of the property purchase price plus borrowing costs if you have a family member who can guarantee a minimum of 20% of your loan;
First Home Buyers Grants  – gives you $15,000 to help with the cost of building a home which can be used as a part of your deposit;
Buy a home with sibling / parents friends – using a property share loans allow you to split the costs making it more affordable, as long as one person as has the deposits;
Certain professions – some professionals such as Doctors, surgeons, dentists, vets can get special deals where for example they don't need any deposit saved or can get good discounts on the costs of buying a home. When we speak I will let you know if this applies to you.
If your deposit less than 10%, then you need to know about "Genuine Savings".
If you have some savings, but it is less than 10% of the value of the property, then you need to know about the concept of "Genuine savings".
Genuine savings means you have saved gradually by yourself and over time – it is genuinely saved from your pay each month.
If you have less than a 10% deposit saved, then most banks will want your deposit to be made up of genuine savings.
The discipline of being able to put money aside each month, and have it sitting there and growing, without you spending it, shows you have a certain character.
This is an indication that you could reliably repay your home loan.
Some examples of genuine savings are:
Savings held or accumulated over at least three months;
Term deposits held for at least three months;
Shares or managed funds held for at least three months;
Cash gift held for at least three months;
Inheritance funds held for at least three months;
If your deposit is NOT genuine savings?
OK we are really getting into the nitty gritty here around what banks will accept as your home deposit.
The following are NOT considered genuine savings
cash / money gifts
Inheritance
Tax return
Work bonus
If all or a chunk of your home deposit is made up of non genuine savings, then you will need to show some other proof that you have discipline around regularly saving money.
Some ways to show proof you have savings discipline:
You have paid rent every week for 6 months – requires a lease agreement / letter;
You are paying off a large chuck of your credit card every pay period – for a 6 month period.
Short case study
If you live at home and your parents have given you $20,000 to use as your home deposit, and you have no other evidence to show you can manage loan repayments, the bank will wonder how you suddenly will change your behaviour and start saving.
If you are in this situation, then to get a home loan approved, you need to put as much money as you can aside each week (for example $200 a week) and do this every pay cycle for 3 months.
Some banks will allow you to get a home loan as you are showing regular and disciplined saving.
Other solutions
If you don't have genuine savings, then there may be some other lenders we can use for your home loan.
You can also bypass genuine savings by having a family member go guarantor on your home loan.
Can you get any First Home Buyer Grants?
There are currently three main government benefits on offer that can help you buy a home.
First Home Buyers Grant – which is $15,000 towards the cost of building a home;
Stamp Duty Rebate – which is a rebate or discount on the amount of Stamp Duty you pay when buying a home or vacant land to build on. You can get up to $8,750;
First Home Loan Deposit Scheme

– where you only need to save a 5% deposit and you save on Lenders Mortgage Insurance. 
How much can you afford to spend on a home?
The first thing to understand is the idea of borrowing power.
This is the maximum amount you might be able to borrow and will vary between lenders.
Your borrowing capacity is a bit like your credit card limit – just because you can borrow a certain amount doesn't mean you should.
There are a few different methods you can use as a rule of thumb.
Your borrowing capacity is around 6 to 9 times your annual pre tax income. For example if you earn $50,000, your borrowing capacity is approximately between $300,000 to $450,000:
Your mortgage repayments should not be more than 30% of your income (pre tax).
You can also use one of the many online calculators as a guide. Be aware that they are about as accurate as my rule of thumbs!
Once you have an idea of your borrowing capacity, you need to take into consideration the other costs of buying a property.
Work out the other costs of buying a home.
When buying a home, there are a few extra costs come up, most of which you need to pay for out of your deposit / savings, and one which can be added to your mortgage.
Paid upfront out of your deposit
Typically these are:
QLD Stamp duty – this is typically the largest cost.
Mortgage registration – allow $200
Solicitor / conveyancer – pays for title searches and arranging settlement. Allow around $2,500
Transfer free – allow up to $1,500
Building and pest inspection – have an expert go through the property and check for issues like termites or structural damage. Allow $500
Other costs – your solicitor will advise you of any council / rates
Costs added to your home loan 
This is an insurance paid by you, to protect the bank in case you can't make your loan repayments.
Normally this is added to your mortgage, so it does not coming out of your savings, and is often referred to as 'capitalised'.
Example of extra costs to buy a home:
Value of property – $550,000
Deposit saved- $30,000
Buying costs to pay upfront
Stamp duty – $10,600

Mortgage Registration – $192

Transfer fee – $1,524

Solicitor – $1,500

Building and pest – $500

Total -$14,316
Plus Lenders Mortgage insurance which is approximately $20,000, which is added to your home loan.
Next step:  Book a free 15 minute phone call with me to discuss this.
How to buy a house if you think you have a bad credit history.
For a bank to lend you money, first you need to be sure you don't have any flags against your credit history.
If you're concerned about your credit file we recommend you get a copy  before applying for a loan to check and see if there are any 'marks' against your name.
There can be a number of reason's why this might be the case: whether it be from not paying your mobile phone bill on time, missing a credit card or loan repayment or worse.
Your credit file can be accessed here.
If you do have a bad credit history, there are some things you can do to fix it which is normally determined on a case by case basis.
If you feel that it's something that you'd like to know more about, please call us to talk about your individual situation.
Step 3:  Do you need a home loan pre approval?
Getting a home loan pre approval before you make an offer on a home is not necessary for most home buyers anymore.
In fact, I only recommend pre approvals if you are buying a home at auction or your financial situation is complex.
Instead I can give you the same information – which is usually the certainty of if you can borrow money and how much you can spend on a home – without applying for one.
Read more here to find out if you need a home loan pre approval.
Step 4: Go house hunting
Now that you are armed with the possibilities (like how much you can afford to spend buying your first home), it will help you to narrow down exactly what areas and types of homes you can afford.
I recommend you get out house hunting while you are still saving your deposit because you should be spending at least 3 to 6 months looking around.
I think you should physically look at 20 or more properties in the area, which are similar to the area  / home you are considering, over a 6 month period.
Notching up your hunt to a 'I'm seriously' looking level will mean you double down on making the dream a reality.
Investing this time house hunting is important for a few reasons:
Market research – get savvy on what homes are worth so you don't over pay;
Genuine savings history – you need at least 3 months of good savings / spending history for the banks to approve your home loan so use this time to really focus on disciplined money habits;
Get on real estate agents email lists – as you start seriously looking at homes you may notice that some are 'under offer' barely days after they appear on realestate.com.au. This is often because buyers are actively in touch with real estate agents, and hearing about properties before they are advertised. My advice is to make yourself known to the agents in the area now.
 Download the house hunting checklist here.
Step 5: Decide if this house is the one?
It is most important to make sure you are paying the right price – you make money based on what you pay for the property so make sure you do your research on how to value the property.
And does this home feel right? 
Do drive by's at different times of the day and night;
Work out the commute to work / schools and do a  test run;
What are the schools in the area like;
Get into the local neighbourhood – spend some time getting to know the area, for example, try the gym, go to the markets or walk your dog through the parks.
Also remember it's not forever – if this home is your starting point into the property market and you feel you are settling for a home that's not as big, grand or flash as what you imagined, then use it as an incentive to fix the place up, sell and move again.
These days Australians spend on average 7 years in their homes before moving again.
Step 6: Get ready to make an offer
A) Ask the agent how they would like the offer made
In Queensland, there is no standard way to make an offer to buy a home.
You will need to talk to the real estate agent about how they are receiving offers on the property, with the common approaches being:
Put your offer in writing in an email;
Take a verbal offer over the phone;
 Fill out a form;
Complete an 'expression of interest';
Complete the 'contract of sale'.
In order to make an offer on a home, you will need to be confident in the price you are wanting to pay for the home as wells as the conditions that complete your offer.
B) What information to include in the offer
Now that you know how the real estate agent is accepting offers, you will need to provide the agent with all the information they require, in order to official receive your 'offer'.
This information is generally copied over into the 'contract of sale', when your offer is accepted (or sooner depending on the agent).
These are the details you would generally need to provide to a real estate agent when you go to make an offer on a house.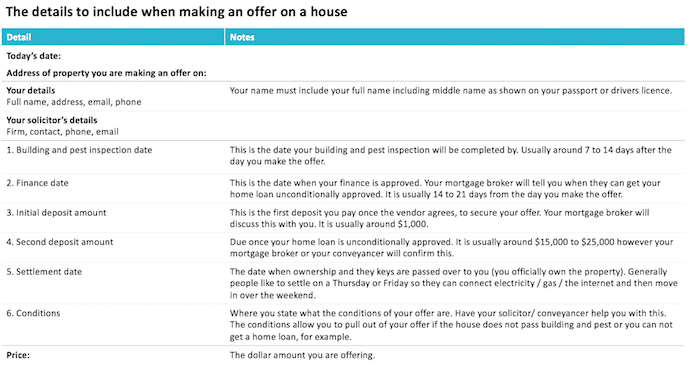 At this point I highly recommend you read Steps to make and offer on a home.
Get the key steps in this summary guide which you can download for free now!
Step 7: Prepare your offer and conditions
It's important at this point to know that offer on a property is made up of two features:
Price – what you are prepared to pay for the property
Terms and conditions – also known as clauses, which are the terms around your offer, and help protect both you and the vendor.
How to come up with a price to pay for the home
If you have done the rounds on the house hunting, you should have a good idea now on what the home is worth.
At this stage, if you have not spoken to a mortgage broker about how much you can borrow, you need to get that done now.
It is common that vendors have an unrealistic expectation of what their house is worth.  If you have done your research, you will have a much better idea of the value of the property than the vendor and often even the real estate agent.
Your initial offer should be within 5% to 10% below what you are prepared to pay, to give you some room for negotiation.
For example if the property you want to buy is on the market for $550,000, then your first offer would be around $520,000. Keep in mind though that there may be other buyers, so starting low may mean you miss out.
Also read How to make an offer on a property below asking price.
Deciding on the 'conditions' of your offer
'Conditions' are usually focused on the 'time frame' for when you move in and allow you to  'get out of the sale' if your finance falls through.
It is important that you get these conditions right upfront as if you try to add these conditions into the contract after it has been finalised, then it's unlikely the vendor will agree.
A savvy buyer who has done their research will be armed with information on why the vendor is selling and where possible, use this information to customise the terms and conditions. The aim to resolve a problem the vendor has, to make your offer a hard one to refuse, even with a lower price.
It is important that you talk to a solicitor or conveyancer about the conditions you are requesting along with your offer, before you sign the contract of sale. A solicitor will be able to advise you on the exact wording of the conditions to include and their implications.
Once you have your complete offer ready – 'price' and 'terms and conditions' – you then submit this to the real estate agent.
Confirm the finance date
Its crucial you find out from your mortgage broker what the finance date is, as this needs to be included in your contract.
This is the date by when your home loan will be approved by.
Usually 21 days is standard.
When the market is competitive with lost of people bidding on properties, a shorter finance period of 10 business days can be appealing to the vendor. You would need to check with us first to ensure this can be achieved for you.
Step 8: Think about your counter offer
After you have submitted your offer, the agent will usually come back to you with an answer within a day or two of you submitting your offer.
They may accept your offer and conditions as is – or more likely – they will come back with a counter-offer.
Read more on counter offers in Step 7 of this guide on how to make an offer on a house.
Step 9: Signing the contract of sale
Once your offer has been accepted, the real estate agent will complete the 'contract of sale' so you can sign it (you may have already signed the contract of sale).
You will need to check all details in the contract of sale to ensure they are accurate. There is no room for error here. Pay particular attention to:
Spelling of your names – they must appear as they are on your passport or drivers licence, including middle name;
Price and conditions – are as you stated in your offer.
The contract of sale is a legally binding agreement between you and the owner of the property. As mentioned, it is crucial you go through it with your own solicitor or conveyancer to ensure the contract is sound so the transaction can be completed successfully.
Read more here on the contract.
 Buying a house for Auction
If the home you are buying is for auction, then the key is to be prepare:
You will need a "Fully Assessed" home loan pre approval before auction day. This is where we apply for the home loan as though you where buying the property, to get a proper assessment of your borrowing capacity.
Do a Building and Pest inspection before the auction day to make sure you are happy to proceed with purchasing the property.
To bid for the property you will need to register and have a bidding number.
If you are the winning bidder, you will need to pay a deposit of around 5% on the day and also sign the Contract of Sale.
There is no cooling off period, meaning you are now committed to buying the property.
Step 10: Pay first (of three) deposits
Paying the deposit
You'll need to pay a refundable deposit when you sign the contract – this is often one of the terms in a property contract.
In most situations, the amount is between $1,000 to $10,000.
This deposit is paid within the 24 hours of signing the contract and is paid into the real estate agent's trust account.
Deposits can be a little confusing as they are usually paid in three lots (all are covered in this post):
A refundable deposit when you sign the contract of $1,000 to $10,000 (usually $1,000);
Once the contract goes unconditional you'll pay a second deposit (shown in your house contract) – covered here in step 16;
The final deposit is paid at settlement (your solicitor will advise of the cost) – covered here in step 19.
We arrange a property valuation
We will arrange a property valuation for you once you have signed your contract, which is where the bank puts an estimate on what they think the property is worth.
Property valuations are usually a big factor in determining which bank we apply with for your home loan. The higher the valuation, the more you can borrow, which is important especially if you have a smaller deposit.
 Step 11: Arrange home and contents insurance
Your home and contents insurance needs to commence on the day of settlement.
You can, when signing the contract, negotiate to make it the owners responsibility to keep the property fully insured up to and including the day of settlement.
In this case, you'll need to take out insurance from the following day onwards.
If you are buying a unit/townhouse, insurance may be covered by body corporate.
Step 12:  Book building and pest inspection
A building and pest inspection is completed after signing the contract and is done by two separate experts.
The building specialist will check the structure of the roof, walls, floors, fences and any adjoining buildings, look for things such as cracks, faults, asbestos and movement.
Book this in as soon as you make an offer and be there when the inspection is happening so you can ask questions.
These cost between $500 to $750.
I can recommend a Building and Pest expert or find one on Google.
Read more here on building and pest inspections.
Step 13:  Start your home loan application
What personal and financial information you need to provide to apply for a home loan
By this point, you would have already met your mortgage broker face to face so you'll have an idea of what you need to do to apply for a home loan.
A part of the application process requires you to complete two steps which you can do from home.
Don't be surprised by the amount of information we ask for – it's for your benefit so we have a thorough understanding of your finances.
It's really important that we recommend the right home loan options for you and have it set up properly from the beginning to save you money, stress, and hassle in the future.
Step 1: Complete the online questionnaire
At Blackk, we have our clients complete an intuitive online fact find which takes between between 10 to 40 minutes, depending on how complex your financial situation is.
The online questionnaire asks for your:
Income
Expenses
Assets
Debts
Employment history (last 3 years)
Contact details, including address history (last 3 years)
Step 2: Providing your supporting paperwork
The next step is for you to find and upload paperwork that supports the information you've declared in the online fact find.
For example, ID, your most recent payslips and all bank statements over certain time periods.
You simply upload these to a secure site where we collect them.
We order a property valuation
A property valuation is where the bank has the property you are hoping to buy valued, and we organise this on your behalf.
Property valuations are an important factor in determining which bank we choose to go with for your home loan. There can be some variation in the valuations which can impact how much you can borrow. If you only have a small deposit saved, a high property valuation will be important.
Step 14: Talk to a solicitor to help with understanding contracts
Some people feel more comfortable speaking with a solicitor to understand contracts and what is required for settlement.
If you have not already done so, now is a good time to get in touch.
A short phone call may be all that is required at this stage.
We can recommend a good conveyancer / solicitor if you need one otherwise find one on google.
Step 15: Sign your home loan application.
Come in to sign your home loan application.
Once you've provided all your details (from step 15), we review your information in depth and recommend home loans for you.
There are a lot of factors we take into consideration when choosing home loans, and I'll take you through this in person so you feel comfortable and confident.
When you're ready, you'll sign the loan application and we can start the process to get your loan approved.
Waiting for loan approval –  conditional and unconditional loan approval
It usually takes the lenders around 2 to 7 days, once we've submitted your loan, to hear back from the lender (this will vary between different brokers).
My team regularly follows up to make sure your home loan is progressing without any issues and keeps you updated.
We're conscious we're working to the deadline you've negotiated in your contract and are doing our absolute best to get your loan approved beforehand.
The lender will come back to us (within 2 to 7 days), with either a 'conditional' or 'unconditional' loan approval.
What is "conditional" loan approval?
Conditional loan approval is when the bank is considering approving your home loan, but they have some questions they need clarified first.
For example, they may question the time you missed a car loan repayment, went over your credit card limit or the overtime hours on your payslip.
If this happens, we'll speak with you and the bank to resolve any issues.
What is "unconditional" loan approval?
Unconditional loan approval (also referred to as formal or final approval), means your loan has been approved and you can relax.
This is the approval we are aiming for and is often a moment of celebration and relief for our clients as it means they can buy their home!

Step 16: Once your home loan has been approved pay your second deposit (of three).
 Receive your loan approval letter.
Within 24 hours of receiving unconditional loan approval from your lender, you'll receive a letter with basic loan details indicating your loan has been approved.
Pay your second (of three) deposits due.
Once your loan is approved, you'll need to pay the second deposit to the real estate agent.
The amount to pay will be shown on your contract of sale.
Step 17: See a solicitor/conveyancer to sign paperwork.
See your solicitor about what is required for settlement and sign the required paperwork. A solicitor gives:
Advice on the legal side such as cooling off periods, tenants in common, sole tenants and joint tenants;
Ensures the contract has the agreed terms;
Arranges payment of the deposits;
Liaises with the seller/vendor on your behalf on legal issues;
Organises council and government searches;
Calculates settlement payments owing (i.e. amounts for stamp duty, transfer fee's, rates and water adjustment's);
Arranges for the home to be transferred into your name after settlement.
Step 18: Come in to sign you Home Loan Documents.
Once the lender has approved your loan, the process for preparing your loan paperwork (also known as loan documents) begins.
These either can be sent to you or your mortgage broker.
If you can, send them to us so we can check them thoroughly and make sure they're correct before signing (you'd be surprised the number of times we pick up errors in the paperwork)!
Either way, it is best to sign them together with me, otherwise we can courier them to you so you get them as quickly as possible.
Some documents (the Queensland Government Mortgage Forms in particular) may need your signature witnessed by a JP or Commissioner of Declarations (we have this service available in the office free of charge).
Documents to sign include:
Home Loan Contract
Mortgage (title) Document
Direct Debit Agreement
Setting up your new bank accounts
When you take out a home loan, you'll need new bank account/s to be created.
The includes the home loan account, as well as a transaction account and any new credit cards. You'll need to set up passwords and to activate any cards.
The local branch of your new lender will contact you to get this arranged.
Step 19: Pay third deposit (transfer funds for settlement)
Transfer the remainder of your deposit into the new bank account where your home loan is.
This payment will cover a range of costs, including stamp duty, transfer fees, solicitor fees, adjustments for rates and water and the deposit you make on the home loan.
Your solicitor will advise the amount.
Please make sure the funds are in the account a minimum of 3 business days before settlement.
Step 20: Settlement happens
What is settlement
There are two settlements that occur, the home settlement and the loan settlement. These happen simultaneously.
Loan settlement–  where the funds have been drawn down to pay for the house. This is the point from where interest is charged on your home loan;
Home settlement–  the payment is made for the house and the title is transferred to you.
You don't need to attend the settlement. Your solicitor arranges it with the seller's solicitor as well as your lender and the sellers lender.
Pick up your keys and move in
On settlement day see the real estate agent to get your house keys as the house is yours!
If you can't see the real estate agent they will contact you and arrange to drop off the keys.
Step 21: First home loan repayment
Now the home is yours, you'll need to start making repayments as outlined in your loan contract.
You can check your internet banking to confirm when your first repayment is due or we can advise you (e.g. If repayments are set up to be fortnightly, the first repayment is 2 weeks after settlement).
Before the first repayment is due, check you have enough to cover it and ensure it is coming from the correct account.
I'm Victor Kalinowski and I'm a Mortgage Broker at Blackk Home Loans based in Brisbane and Burleigh Heads.  You can read more about me here.
If you want to get started, please book online now, a meeting with me at a time that suits you – either a phone call or a face to face meeting.