Read my South East Queensland update for August 2021
Hi everyone!
Alright, so this is our update for August 2021! 
I wanted to talk a little bit about a few things that are happening at the moment. These are questions I have had from a few clients this month and so I thought you may be interested too!
This is an edited version of the regular YouTube update which you can watch below.
Today I will cover:
Why are my friends/family on a lower home loan interest rate than me?
Should I fix my interest rate?
Want to buy an investment property using the equity in your home?
Why are my friends / family on a lower home loan interest rate than me?
From time to time, we get a comment from a client where they'll say:
"I was talking to my friend (or family members), and they said that they're on a different interest rate to me, and it turns out that that interest rate is lower than mine. I don't  understand why?"
We find that there are three reasons this normally occurs.
Firstly, many people don't always know what actual interest rate they're on.
We talk to a lot of people about rates and they actually have to go into internet banking and check what interest rate they are on. They think that they're on a certain figure and then that turns out to be something different.
The second thing is that your friend may have more equity or deposit than you.
Alright, and so this can be, usually from the fact that at the moment because we've had an increase in home prices over the last few years you know, and particularly over the last six months.
If someone's refinanced recently and they've had a home loan before they will have a lot more equity in their property or they may have a lot more equity than you do now, particularly if you're a first-time buyer.
So let's have a look at an example and see. We've got here an example from Macquarie Bank.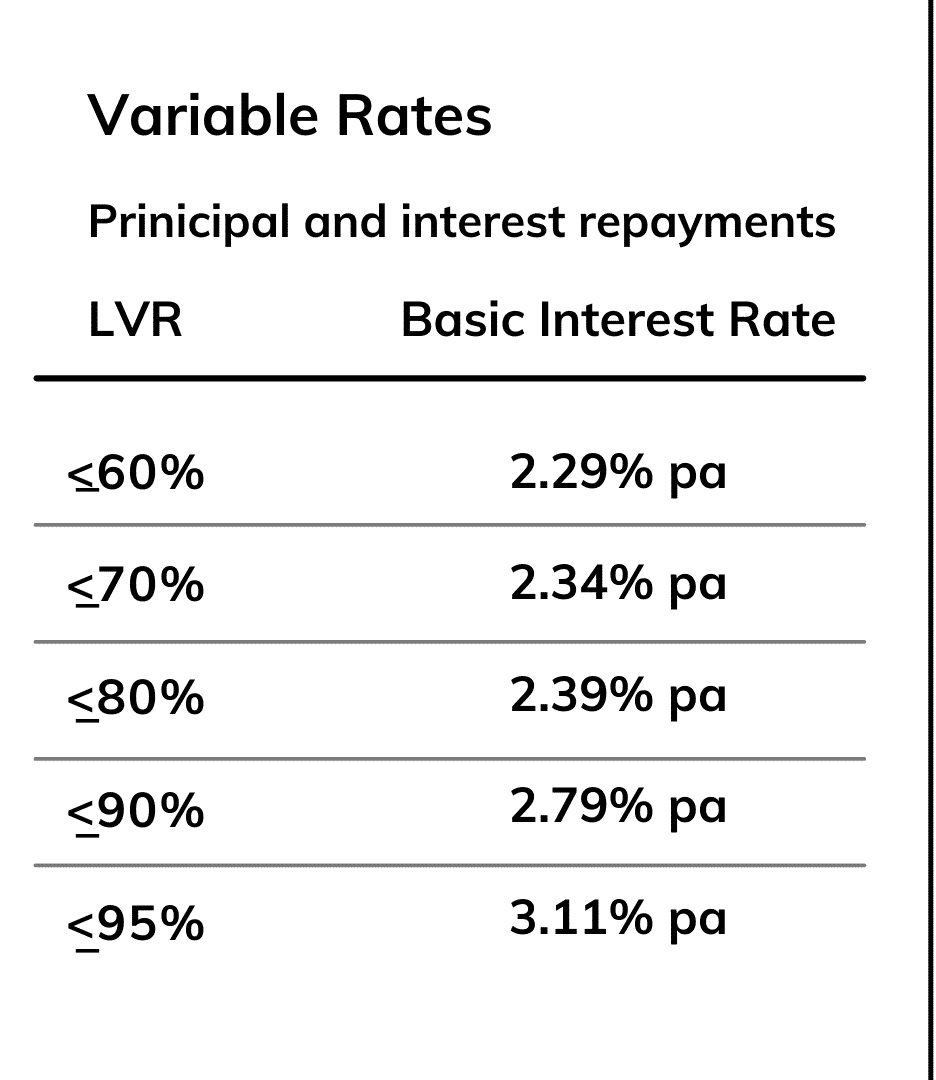 Now the reason why we're using Macquarie Bank is the way that they set it out as it's very easy to follow. So they've got a number of tiers.
The first is the LVR column (Loan to valuation ratio) which is how much equity / deposit you have. So up to 60% LVR means your home loan is less than 60% of the value of your property (i.e you have at least 40% equity in your home).
In this case, you are less risk to the bank, so you have a lower interest rate of 2.29%.
On the other hand, if you are borrowing, say between 90% to 95% of the value of your property (so you have between 5% to 10% equity/deposit) then you are considered a higher risk so you have a higher interest rate of 3.11%. So that's a big difference.
It's just under 1% variance between those interest rates.
It all comes down to how much equity you have. Banks really like clients who've got a lot more equity in a property and so that's why they reward those people, by offering them a more attractive interest rate.
The third reason could be that your friend may be on a fixed rate.
All right, at the moment, many fixed rates are a bit lower than the variable rates.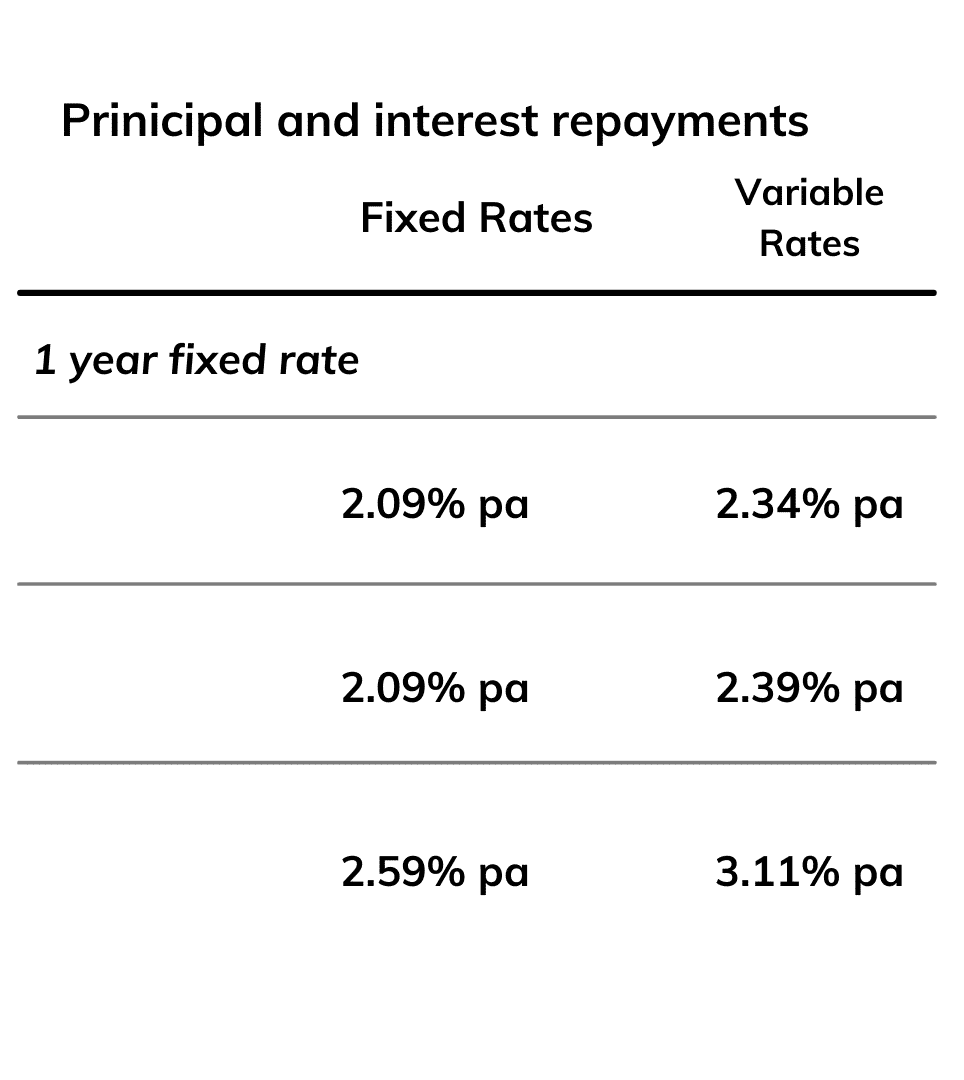 If they've got a fixed rate (or a higher portion of their loan on a fixed rate) they could be quoting you rates like say high 1%'s or low 2%'s.
But if you are first home buyer, you might need to be on a variable rate because it could be one of the bank's lending rules, for example.
Alternatively, if you're renovating or building on a construction loan then you need to be on a variable rate for that construction process.
And so what I am saying is that if you are on a higher rate, there's always a reason for it. So if you ever want me to explain why don't hesitate to let us know.
So the main thing to be getting a lower interest rate on your home is to build up more equity or also save more cash. Also as you can see in that table above, there's also a big change between borrowing, just below 90% and borrowing above 90% as well.
Should I fix my interest rate?
We've had lots of calls about this in the last couple of weeks and the last couple of months and also I've noticed a lot of news about it in the media right now.
Ok, so this is my personal opinion. So, it's just to give you a little bit of an idea of how I see it.
There are some wild predictions in the media on interest rates going up and down. You see some stuff where it's, it's very very extreme. And also they're talking about when the change in rates might happen and what's going to cost, etc.
Okay, yeah, ultimately, that's just a prediction, but I find that the more extreme the predictions, the more coverage and more clicks that piece of media gets on the news on the radio on talkback, etc.
Okay, and it gets shared more and there's a lot more comments. If someone comes out and says:
"look we expect interest rates to largely say the same for the next three years"
That's pretty boring, isn't it?
Whereas if someone says:
"we're gonna go by Christmas"
It's very exciting. It's also pretty scary and it gets people definitely sort of worked up.
Alright now if you do want to fix it, and there are many logical reasons why you may want to do so, I do fully support you to consider it. There are some good deals around, particularly if you've got at least 20% plus equity in your property.
Interest rates have moved up a little bit, from where they were a few months ago.
Alright so, you know, three, six months ago they were very slightly lower, but not a lot of difference. And always remember, to consider not fixing the full amount of your loan. I recommend you keep a chunk of it on a variable rate. So you can have an offset account or a redraw that you can use to pay extra into to pay it off sooner and gives you that flexibility plus helps you save on the interest.
Buying an investment property
Now we're going to talk about this because I've noticed that this has been a big change over the last couple of months. We've had a lot of people who are investors and looking to get back into the market, probably from about October last year it started, but particularly now.
A lot of the calls that we had were more from people who were owner-occupied and wanted to upgrade to a new house etc. But in the last couple of months, we've noticed that investors are coming back into the market. Why?
Interest rates are low and there still seems to be a shortage of rental properties for people to rent around in some areas. There's also a promise of capital gain in the future so they're thinking that capital growth is likely to continue. So if you own your own home now you may have more equity in your home today that you didn't have, you know, nine months ago.
So what can you do?
The process is that you would normally find out how much equity you have. So, we get the bank to value your property (and higher is better). And then you have a look at the difference between how much your property's worth and how much your loan is. And then that can give you a guide as to how much equity, you've got.
You have also got to look at your borrowing capacity as well because it's no good having equity in your property if you don't have enough borrowing capacity to be able to buy another property.
But a lot of our clients do have equity, and they also have the borrowing capacity, so they can tap into that equity and then use it to go and buy an investment property.
We hope that's useful, and we hope you're enjoying spring, and if you can help with anything, don't hesitate to get in touch.
My name is Victor Kalinowski and I'm a mortgage broker at Blackk Finance, with offices based in West End in Brisbane and Burleigh Heads on the Gold Coast. I help clients from all over Australia buy homes. If you're interested in getting in touch for some advice,  book a call instantly at a suitable time or call us on 07 3122 3628 today.

The information contained within this page is general in nature. It serves as a guide only and does not take into account your personal financial needs. Before you act on this information you should seek independent legal and financial advice. Copyright Blackk Finance 2021.