First Home Buyers (owners) Grant QLD [2020 Complete Guide]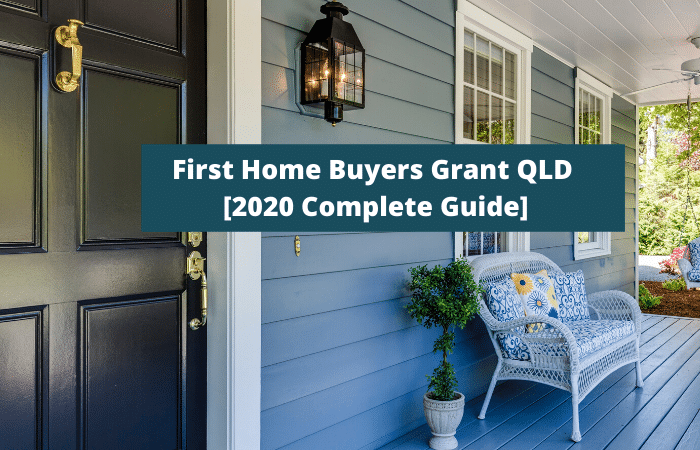 Learn if you are eligible for the $15,000 First Home Buyers Grant QLD, when you get paid how to apply.
This is the Complete Guide for 2020 to the First Home Buyers Grant QLD, where you will find everything you need to know.
Find out what you need to do to qualify, when you get paid and how to apply. We also cover how to use the Grant as a part of your deposit so you can buy a home sooner.
Key criteria to be eligible get the $15,000 First Home Buyers Grant in QLD.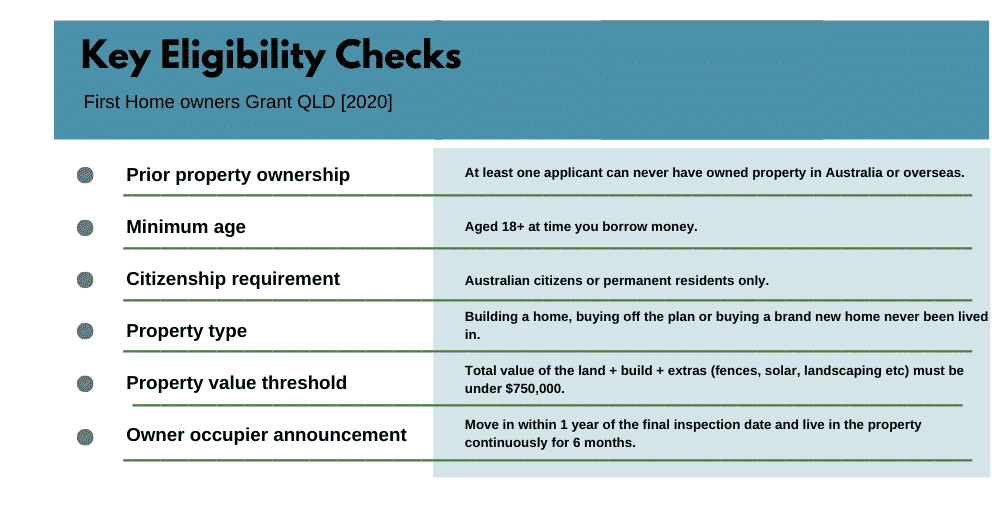 What other Government Rebates, Incentives and Grants can I get if I am buying my first home?
Before we go through the $15,000 Grant in more detail, I want you to know that there are currently three different programs you may be eligible for.
You can take a look at my eligibility quiz to instantly learn which ones you could get.
This quiz takes the hard work out of determining what funding you are eligible for.
These are:
First Home Buyers Grant – which is $15,000 towards the cost of building a home or buying a brand new home – covered in this post;
Stamp Duty Rebate – which is a rebate or discount on the amount of Stamp Duty you pay when buying a home or vacant land to build on. You can get up to $8,750;
First Home Loan Deposit Scheme – where some or all of the Lenders Mortgage Insurance you pay when taking out a home loan is covered for you, up to the value of $16,000.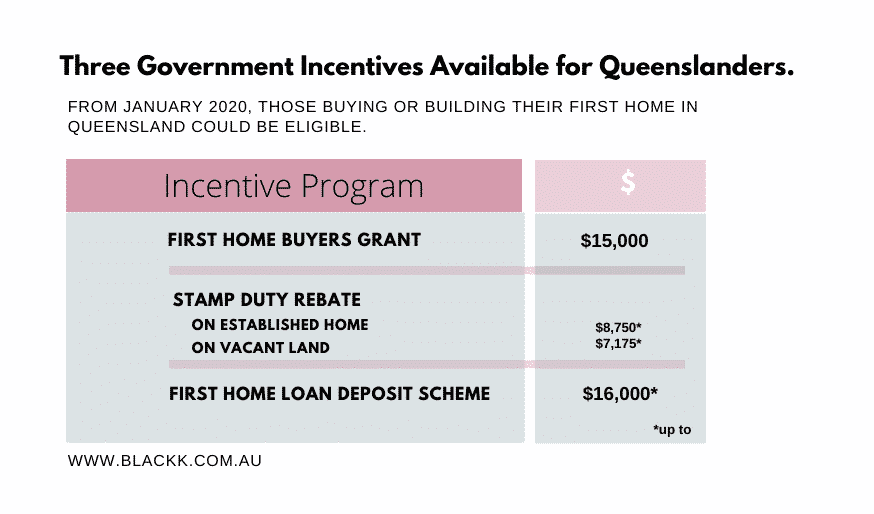 Can you use your $15,000 grant for your home loan deposit?
Yes, you certainly can!
We definitely recommend that you use the $15,000 grant as a part of your deposit.
Nearly everyone who is buying or building their first home needs to take out a loan, as they don't have the money saved to buy the land and pay for the building outright.
When you're building, this is often called either a building or construction loan.
You can use your $15,000 first home buyers grant QLD as all or part of your deposit when you apply for the building portion of your construction loan.
If you are building, there are additional things to consider, such as the timing for when you get access to your grant and when you need to pay your deposit to your builder in order to get started.
Typically in most situations, you pay the builder a 5% deposit upfront to get started, which covers the cost of the building appraisal, council approval, working drawings, council fees, application fees, QBCC fees and insurance.
If you'd like to talk about getting a home loan to build your first home and how you can get the Grant , please book a free 15 minute consultation with me here.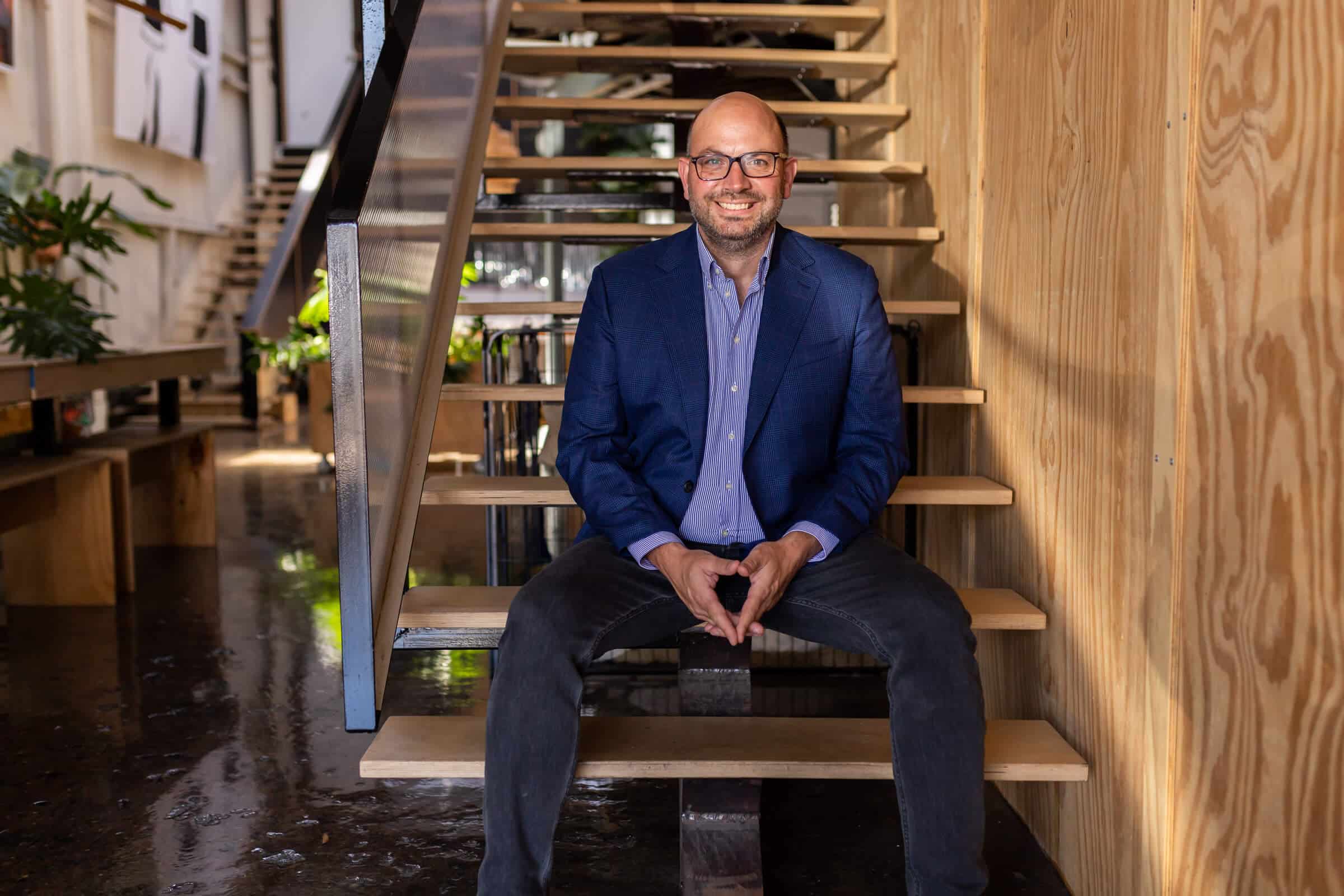 When is the First Home Buyers Grant QLD paid?
The $15,000 first home buyers' grant QLD is paid at different times depending both on how and when you applied for it, and on what type of property you're building or buying.
If you are building
Most first time buyer who we help choose to receive your grant at the "slab stage" (when your builder pours the slab for your new home – see more about the steps to build your home).
The grant will, therefore, be part of the second payment that's made to your builder, as you will have already paid them a deposit (normally 5%) prior to getting started.
The Queensland Office of State Revenue transfers your $15,000 to your lender, and your bank will then pay the builder on your behalf. In other words, the money won't go directly into your bank account – it's passed straight onto your builder.
Buying "off the plan" or a brand new home which has never been lived in
If you're buying "off the plan", you'll receive your $15,000 grant at the settlement of your home.
Once again, the processing of your first home buyers' grant is handled by your lender. This is by far the quickest and most convenient way to have your grant paid and once again it becomes a part of your deposit.
In our experience, it's faster to have the grant handled by ourselves and your lender, which usually takes three to four business days before. In contrast, applying directly through the Office of State Revenue yourself usually takes at least three weeks or more to process your grant payment.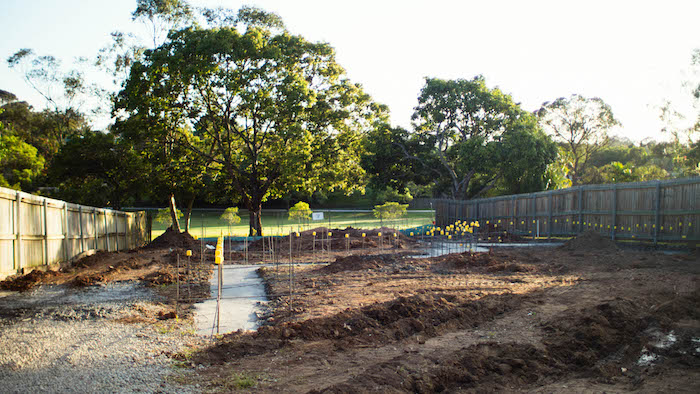 What is the eligibility criteria for the First Home Buyers Grant QLD?
You must meet several eligibility criteria in order to successfully apply for the full $15,000 grant.
1. Previous property ownership
The Grant is for genuine first home buyers who have not owned property before.
This means you must not have previously owned or part-owned any property in your personal name.
If you're buying your first home with your partner or spouse, they cannot have owned property before either (if they have owned property before and they meet the definition of a "partner" according to the Queensland Office of State Revenue, you will not be eligible for the $15,000 grant, but you may still be able to claim the stamp duty rebate. More on that in a moment.)
If you've previously owned property in a Corporate Trust, Self-Managed Super Fund (SMSF), or in a Company, this may not be considered to constitute previous property ownership (to determine your eligibility in these circumstances,
2. Property type
To qualify for the first home buyers' grant, you must either:
Build your own home (either as an owner-builder or through a builder you hire)
Buy a new home "off the plan"
Buy a new home that has already been built but hasn't been lived in previously
Buy a "substantially renovated" home***
 More on a what a substantially renovated home includes
A substantially renovated home is a home that's been almost been completed renovated. Interestingly, in the last 9 months we've received a LOT of phone calls about this and I've helped 2 clients buy a property in this situation and get paid the grant. The home must be substantially renovated BEFORE you buy it. It will not work if you buy a home, renovate it yourself and then try and claim the grant. It must NOT have been lived in since the renovation.
The seller of the property must be registered for GST (or required to be GST registered) and the seller must be selling the property in the course of their business;
They must give you a tax invoice that shows the GST component of the renovation (as evidence that the sale is a taxable supply transaction);
The seller must provide you with a letter stating that the house has not been occupied or sold since it was fully renovated.
To qualify for the grant on a substantially renovated home, you must also provide the Queensland Office of State Revenue with a final inspection certificate – a form 11 if your new home is a unit, or a form 21 if your new home is a house.
If you're buying a home that hasn't been renovated before you buy it, the only way to get the first home buyers grant QLD is if you were to demolish / knockdown the current property and build a completely new house.
This will only work if you've got a substantial deposit – i.e. at least 20% and possibly 40% of the amount that you're wanting to spend overall. This is not so much because of the grant but it's due to the issues of getting approval from your financier to remove the house that's on the property. It's quite rare and I've only heard of it happening once in the last 12 years.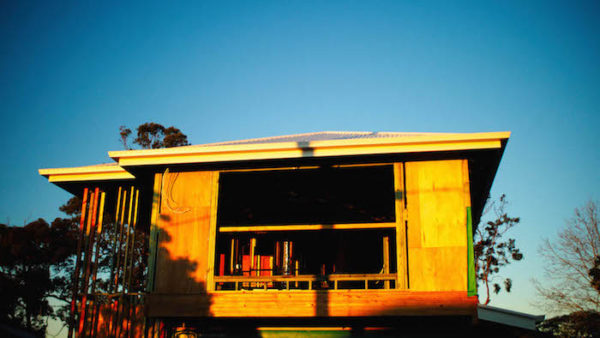 3. Property purchase price
To be eligible for the $15,000 first home buyers' grant, the total purchase price of your property must be less than $750,000.
If you're buying "off the plan" or buying a newly built property, determining your purchase price is simple. It's the total price that was on your contract.
If you're building your first home, the total purchase price will be the cost of your land plus the cost of the building contract, plus any additional construction costs (features or items such as fences, landscaping, or solar panels). So, for example, if you buy a block of land for $379,000, sign a building contract for $298,900, and pay for fencing, landscaping, and a driveway for $31,400, then your total purchase price will be $709,300.
 4. Home occupancy
You must live in your new home for at least six consecutive months, commencing within 12 months of your purchase date.
If you fail to do this, you will need to pay back part or all of your grant. You may also be charged a penalty.
5. Age
You must be at least 18 years old on the date of purchase.
6. Citizenship
You must be an Australian citizen or permanent resident.
Or if you're buying your first home together, then you OR your partner or spouse must be an Australian citizen or permanent resident.
You must not have previously received a first home buyer grant in any Australian state or territory.
If you're buying with your partner or spouse, they must not have received the Queensland grant or an equivalent grant in any other Australian state either.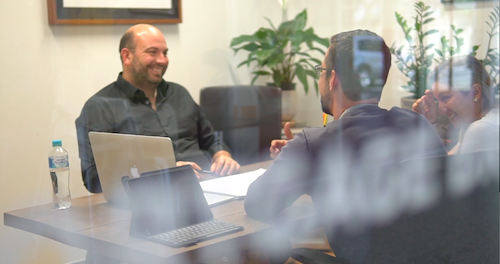 For those in a 'new' relationship with their partner
It's very important to understand the status of your relationship as seen by the Queensland Office of State Revenue.
In their eyes, under the Act, you are "partners" if you have been together as a couple for two years or longer.
This time-frame is important, because it may impact whether or not you are eligible for the $15,000 grant.
For example, we recently worked with two clients that we'll call Michael and Genevieve (not their real names). Michael and Genevieve started their relationship less than 15 months ago. Things were going will and they had decided it was time to build a home together.
Genevieve already owned a property that she was living it, but she and Michael planned to rent it out and live together in the new home Michael was building. Because Michael hadn't owned a home before and their relationship had not yet reached the two year mark, he was eligible to apply for the grant because Genevieve didn't meet the government's relationship test of being together for more than two years.
This meant Michael and Genevieve could still apply for their home loan together in joint names because the bank considered them to be domestic partners, but the ownership and title of the property was solely in Michael's name, allowing him to qualify for the grant.
Obviously, this doesn't apply to everyone, but it's important to be aware of it in case you're in a similar situation and didn't realise that you may still be eligible for $15,000 to help with your deposit.
If you'd like to talk about your home loan and first home buyers grant application in more detail, you can book online now, either a phone call or face to face meeting. There is no cost for this consultation.
What contract do I need to sign and provide to be eligable for the First Home Buyers Grant QLD?
Purchase a block of land which must be done before you sign a building contract. To learn more about building, read how to build a home step by step guide.
Sign a building contract for your new home.
If you're buying a brand new home or off the plan:
Sign a purchase contract for your new home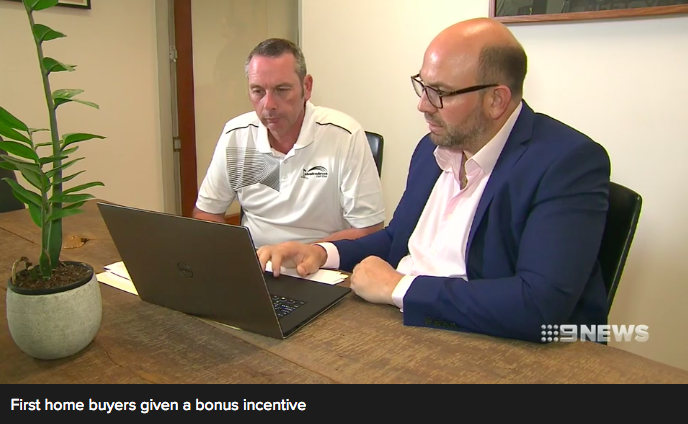 How do you apply?
If we help you with your home loan, then we will complete the application for your $15,000 grant and then lodge it with any necessary supporting paperwork on your behalf.
The necessary supporting paperwork will vary depending on your circumstances and situation, but it may include items such as your contract of sale or build contract and proof of identity. We can advise you on everything you need and help you organise it so your grant application is as hassle-free as possible.
We also make sure everything's done quickly and correctly so you get your grant money sooner.
Using us for your home loan does not cost you anything as we are paid commission from the bank that you choose to get your home loan approved with.
As a part of our service, we handle the application and approval of both your home loan and first home buyers grant application. Using us for these services won't affect your home loan interest rate or add on any extra fees and charges (so you have nothing to lose)!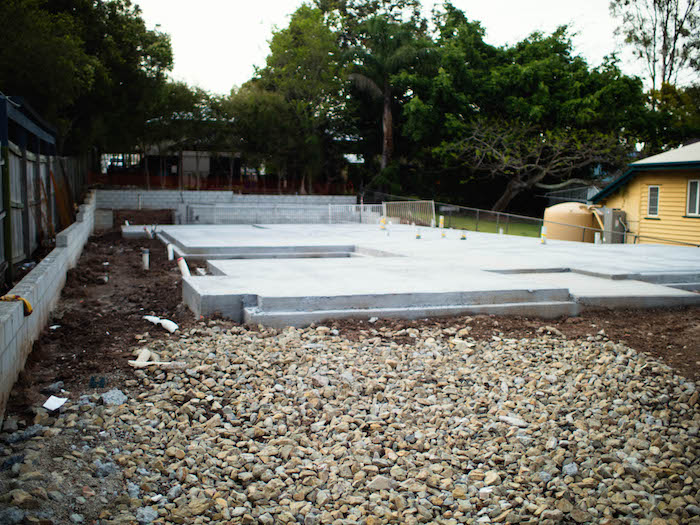 How to complete the application form for the First Home Owners Grant QLD
For clients of ours we'll complete the application form on your behalf.
We fill the application form out at the point where your loan has been approved and you are signing the loan paperwork from the bank.
We'll also need you to provide us with some additional paperwork. Some of it we already have from your home loan application and we'll usually need a bit more.
The application form is nine pages long and has seven sections:
Section 1: Eligibility Criteria
This section involves a simple checklist of Yes / No questions to verify your eligibility to receive the grant.
To be eligible, you must be able to mark "yes" for questions one through to seven and "no" for questions eight through to thirteen.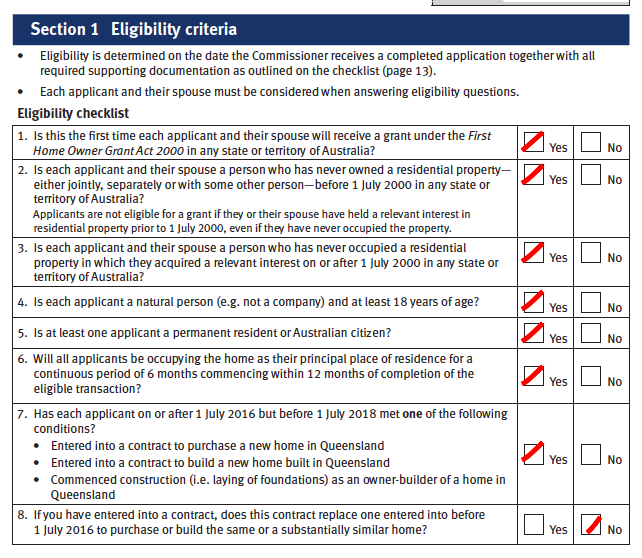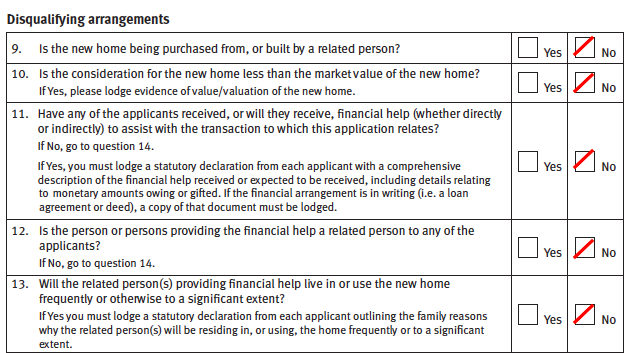 Section 2: Applicant Details
This is your usual name, address, contact details, date of birth stuff that you've filled in a million times before, so it shouldn't be too hard. There is space for two applicants here (e.g. you and your partner / spouse).
If for some reason there are more than 2 applicants (for example, you're buying a home with your two siblings), you will need to attach an additional application form.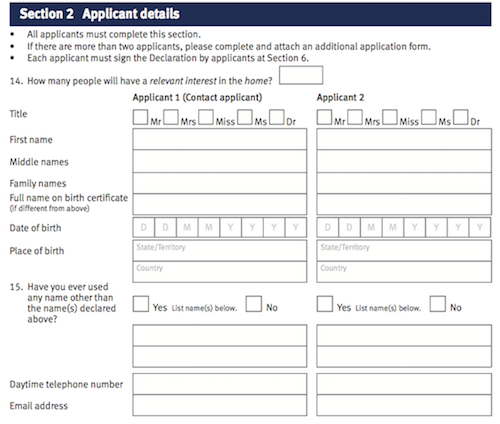 Section 3: Spouse Details
If you have a partner or spouse with whom you are buying your first home and claiming the grant, you'll need to fill in this additional section. (If not, you can skip to section 4.)
Section 4: Property and Transaction Details
In the fourth section you need to include your property address and indicate whether you're building a new home, buying "off the plan", or purchasing a new or substantially renovated home.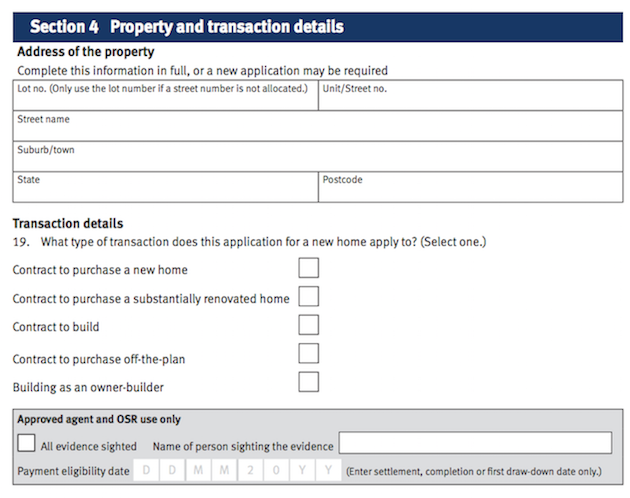 Section 5: Optional Information
Only fill in this section if you are of Aboriginal or Torres Strait Islander descent.
Section 6: Declaration by Applicant
This is the part where you sign and provide your bank details so the government has the information they need to pay the grant to your lender.
Your signature must be witnessed by someone who isn't an applicant. In other words, if you and your partner or spouse are both applicants, they can't witness your signature. As you're filling in the application form with us, we can be your signature witness.
Section 7: Declaration by Spouse
If you're applying with your partner or spouse, this is the bit where they sign. Once again, their signature must be witnessed by someone who isn't an applicant – like us.
What supporting documents do I need to provide?
The exact requirements will vary somewhat depending on your situation, but you will always need to provide ID documents plus the paperwork for your land and building contracts or purchase contract.
The additional documents we require can be your birth certificate, marriage certificate, passport and proof of citizenship.
Identification documents:
As we're completing your application for you, the only ID you'll require is one document from "Category 1" (circled in red below) for yourself, and one for your partner or spouse if you're applying with them.
If you were born in Australia, you must provide ONE of these documents:
Australian birth certificate or extract
Current Australian passport
If you were born overseas, you must provide ONE of these documents:
Australian citizenship certificate
Current passport and visa
Certificate of residence from the Department of Immigration
These documents must be copied and witnessed by a Justice of the Peace (JP) or Commissioner of Declarations. This can be done in our office, or, if it's more convenient, many Court Houses and even Libraries offer a free JP or Commissioner of Declarations service.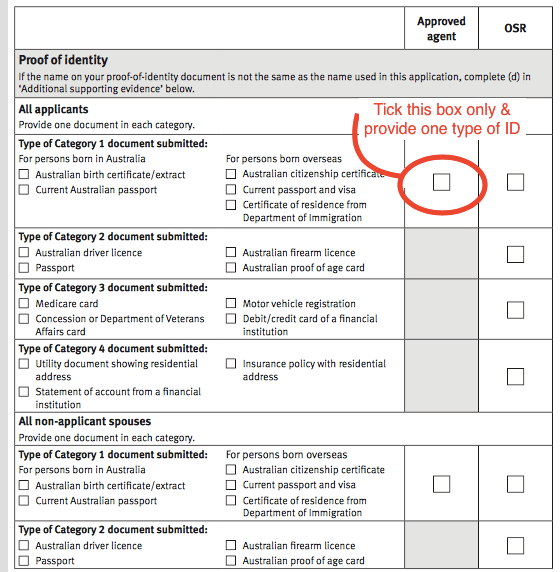 If you have a "non-applicant spouse" (think Genevieve from our story earlier), they will also need to provide ID in the second half of this section (circled in red below).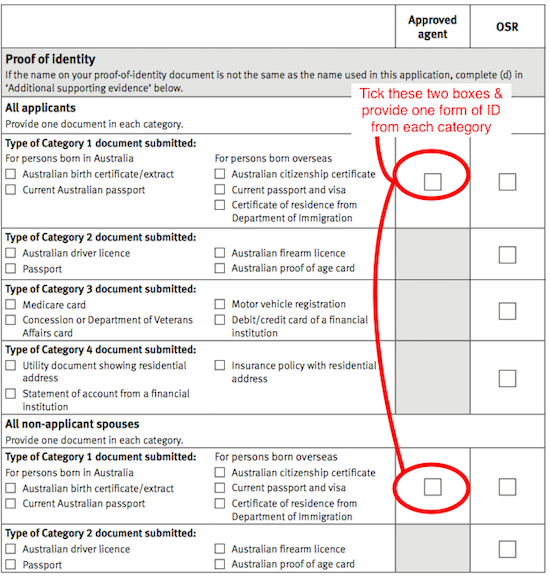 Additional Supporting Evidence:
This section only applies under certain circumstances, such as explaining why your name may be different on various documents due to a name change, marriage, or divorce. We will take the time to help you determine whether you need to fill this section out or not.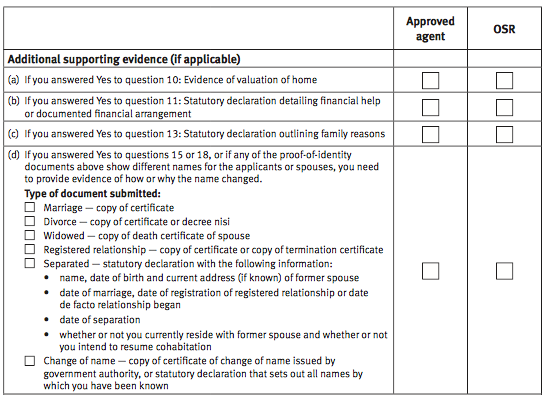 Contract & associated documents
In this part of your application, you need to provide a copy of your building contract or purchase contract and any other associated documents that prove you are buying or building a home that meets the eligibility criteria.
Purchasing your new home (including "off the plan")
If you're purchasing a new home (including "off the plan" properties), you must provide the signed and dated contract plus a final inspection certificate and a statement from the vendor that confirms the home has not been previously occupied.  We should already have these documents on file from your home loan application.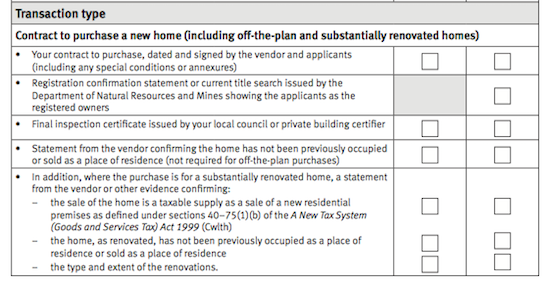 Building your new home
If you're building your first home, you must provide a "contract to build" which has been dated and signed by your builder and all your applicants. You must also provide one additional item that shows the value of the land. You can choose from the list of acceptable items on the application form. Again we will already have this documentation on file.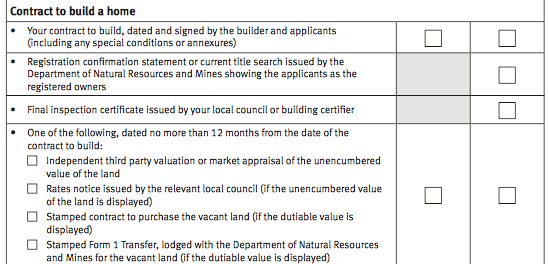 What happens if I don't follow the rules?
It's worth knowing that the Queensland Office of State Revenue regularly audits grant applications to ensure that you have complied with their requirements. This is hardly surprising – they don't take the idea of giving you $15,000 for free lightly!
If you're found to have failed to comply with the requirements for receiving the grant, you'll most likely need to pay back your grant along with any additional penalties or fines that the office imposes upon you.
As such, it pays to get things right, and if you're not sure if you're eligible for the first home buyers' grant, ask us!
My name is Victor Kalinowski and I'm a mortgage broker at Blackk Finance, with offices based in South Brisbane and Burleigh Heads. I help clients from all over Australia buy homes.
If you're interested in getting in touch for some advice, book a call, instantly, at a suitable time or call 07 3122 3628.

The information contained within this page is general in nature. It serves as a guide only and does not take into account your personal financial needs. Before you act on this information you should seek independent legal and financial advice. Copyright Blackk Finance 2020.