Clauses to consider when signing a house contract in QLD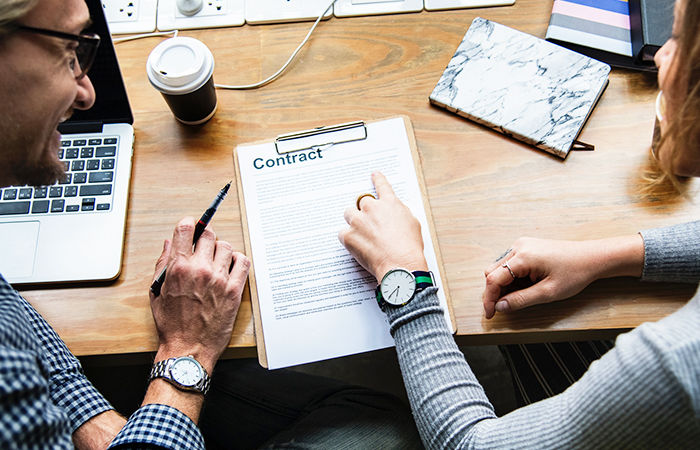 When you sign your house contract, it's important to understand what you're signing and what clauses you need to consider adding to the contract.
When you're in the stages of negotiating buying your home, there's so much to consider. Along with whether or not the bank will lend you the money, you also need to ensure you know what you're signing.
I recommend you ask the real estate agent for a copy of the contract and have a solicitor or conveyancer review it, while you are in the process of making an offer.
Your solicitor will thoroughly review the property contract for you, but it's important you also take a good look.
Make sure the contract has your full and complete names on it (including middle name) and correct spelling. The finance and settlement dates must be achievable with your lender and your broker will advise you of this.
I personally consider these clauses in contracts:
Finance (a must to include) – you will need to include a date, as to when you can get your home loan 'unconditionally approved'.  The date is usually 14 days after the date you sign the contract and as your mortgage broker we can advise you on this. It means that if for some reason your home loan is not approved, you may choose to not go ahead with buying the home within the 14 days and can get any deposits you have paid refunded. If you need longer then 21 days is also common. If a short finance period is part of your offer, then 10 to 12 days is considered a short finance clause;
Building and pest (a must to include) – when you go to make an offer on a property, you will need to order a building and pest inspection (covered in step X). By including this clause it protects you if you want to pull out of the offer. This happens if there is an issue with the property that can't be fixed, you are not comfortable with or you can't reach a negotiated price reduction on;
Property to be professionally cleaned by seller prior to settlement – when the vendors vacate the property, they can leave it dusty and dirty so I highly recommend you request for a professional clean to be a part of your offer;
Pre property inspection – before the property settles, you will want to inspect the property to ensure it is in the same condition as you expected it to be;
If there no services like power, water, electricity already connected – ask for access to the property to arrange connections once your home loan is unconditionally approved and you are going ahead with the purchase.  The longer the property has been vacant the more issues you will have getting services connected. Don't forget wifi which can sometimes it can take up to 4 weeks to connect;
Arrange early access to the property for any work – if it is possible, you want to get tradespeople into the home early before settlement, for example to get floor boards polished, walls painted, solar panels cleaned etc. This can only be done once your home loan is unconditionally approved and you are going ahead with the purchase
Fixtures to remain in the property

It is important that you talk to a solicitor or conveyancer about the conditions you are requesting along with your offer, before you sign the contract of sale. A solicitor will be able to advise you on the exact wording of the conditions to include and their implications.
Remember the real estate agent is working for the vendor and not you.
It is not uncommon for the agent to include their own wording and say "that is a standard condition, you can't change it".
If you don't have a solicitor check the contract of sale before you sign it, make sure you have them check it during the 'cooling off' period.
Like other contract conditions the wording of subject to finance clauses can cause serious problems, so it pays to be careful.
Whilst there are some really good real estate agents, some may work to minimise the finance period or make it harder for you to get out to the contract.
Once you have your complete offer ready – price and conditions – you then submit this to the real estate agent.

This advice is general in nature and is based on my personal and professional experience as a mortgage broker. Please consult your solicitor.